Dry Rot Problems in Yorkshire?
We are here to assist you!
Dry rot, also known as brown rot, is the most troublesome as it can decay any wooden structure inside or outside your home. It is caused by fungi, which break down the cellulose and hemicellulose components of the wood, which give strength and resilience to the wood. Dry rot makes the wood weak and brittle.
Dry rot is capable of spreading faster than wet rot. The dry rot fungus actions quickly to find wood to consume, making it more aggressive. It can also affect thick walls, steel surfaces, or bricks in search of a new wood source to attack. Dry rot fungi contain sporophore, a spore-bearing structure of a fungus that produces millions of red spores, giving the appearance of red dust.
The cause of both dry rot and wet rot is increasing moisture. The problem of dry rot is serious, however by the help of our experienced and qualified experts, who are CSRT Certified, it can be treated effectively in reasonable cost.
Due to Covid19, we follow all Government guidelines and make sure we still provide dry rot treatment in homes and commercial premises. We take all precautions with regards to social distancing and the use of shielding equipment.
Get in touch with our dry rot treatment expert team, and allow them to assist you in determining the best course of action to prevent timber problems while remaining safe. Just call us on 0148 436 7130 or click on the contact menu or request a survey.
We are DPA (Damp proofing Association) and IOSH (Institution of Occupational Safety) Certified. Our Damp and Timber treatment work comes with a 20-years guarantee backed with extra peace of mind.
---
Causes of Dry Rot
Dry rot affects damp timber, exceeding 20% moisture content. This is why removing the source of moisture should be on the priority list for any dry rot treatment strategy. If the dry decaying fungus finds a favourable condition for growing, it will most likely affect your property. Suitable conditions for fungal growth are the presence of moisture, oxygen, wood, and poor ventilation.
Usually, dry rot spores are found everywhere, it may be present inside your home right now, causing no problem for the moment. However, these spores can give rise to fungal growth once they are in a favourable state.
It is better to treat affected timber on time because they can spread and damage more of your property.
---
Dry Rot Signs
Dry rot is most probably found in those areas of the property where people often don't look such as under floorboards, behind plasterboard or up in garrets.
If you notice an unpleasant pestle smell in your home, it may be dry rot, as it is an early sign of this timber problem.
Dark, dry, cracked (cuboidal cracks) and brittle timber, that easily break.
Concentrated patches of dust-colour present on timbers and walls.
Presence of dense white/grey spider web. It happens when dry rot spores produce hyphae, white/grey colour strands when they come in contact with timber in damp and humid conditions.
Fleshy masses of large rust-coloured mushroom-like bodies sporophore on timber. It is the last stage of the dry rot lifecycle. It grows when dry rot fungus has to produce new spores into the air to affect more timber.
If you notice any of the above dry rot symptoms in your property, feel to request a dry rot survey from Damp2Dry Solutions.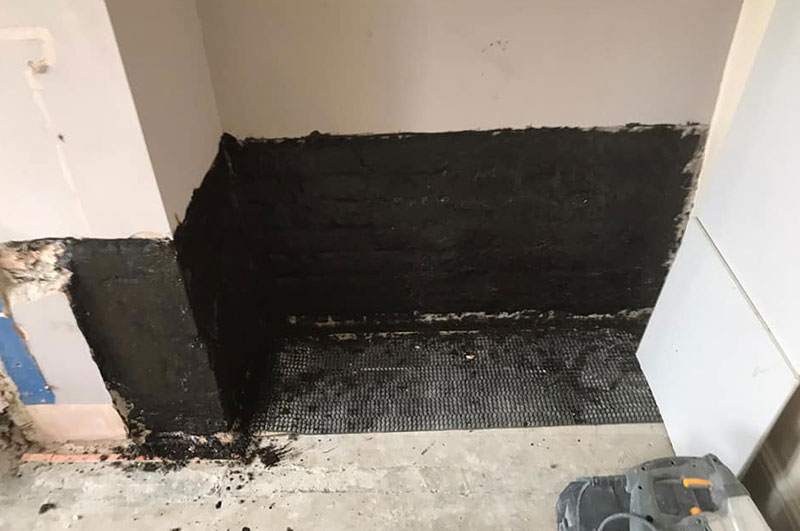 Dry Rot
Dry Rot
Dry Rot
Dry Rot
---
Our Ultimate Dry Rot Treatments
Before going for any treatment plan, Damp2Dry Solutions' over 25+ years of experienced and qualified surveyors accurately diagnose symptoms of dry rot infestation.
When our expert surveyors are assured of the presence of dry rot, they prepare a customized dry rot treatment plan to eradicate the issue as quickly as possible. The steps involved in our dry rot treatment are –
Identification and removal of moisture source - This is the first step for dry rot treatment as it provides a favourable condition for dry rot to thrive. If dry rot is present beneath your property, then Damp2Dry Solutions provides waterproofing services to solve this problem.
Treatment of dry rot affected wood and ointments- Dry rot infected timber usually requires replacement. They are repaired where possible, such as when they damage structural and decorative timber.
Fungicidal Treatment – Any dry rot infected timber that is not replaced with a new one, is treated with the latest fungicidal chemicals that have shown excellent results for dry rotten removal. Fungicides are also applied to masonry, as dry rot can spread through masonry and infect other surrounding wood.
---
We Provide Bespoke Services accross entire Yorkshire
West Yorkshire- Batley, Bradford, Brighouse, Castleford, Cleckheaton, Dewsbury, Halifax, Hebden Bridge, Holmfirth, Huddersfield, Ilkley, Keighley, Leeds, Morley, Normanton, Ossett, Otley, Pontefract, Pudsey, Todmorden, Wakefield, Wetherby, Yeadon
East Yorkshire- Bridlington, Beverley, Driffield, Goole, Hedon, Hessle, Hornsea, Howden, Kingston upon Hull, Market Weighton, Pocklington, Withernsea
South Yorkshire- Sheffield, Rotherham, Barnsley, Bawtry, Dinnington, Doncaster, Hatfield, Mexborough, Penistone, Wombwell
---
We Are Here to Help You Stop Dry Rot Problems
Contact a leading dry rot treatment company in Yorkshire, Damp2Dry Solutions to help you protect your property from dry rot problems. For any help and advice regarding timber treatment and our services, feel free to get in touch with our dry rot treatment experts by calling 0148 436 7130 or request a survey.