Penetration Damp Problems in Yorkshire?
We are here to assist you!
Penetration damp (also known as water ingress or lateral damp) is the horizontal moisture build up process on walls from the outside to the inside of a property.
Causes of Penetrating Damp walls
Rainwater penetration to malfunctioning goods of the property like leaking gutters and downpipes.
Absorption of underground water because of high groundwater levels.
Degraded masonry (brick and stone).
Defective plastering of walls.
Faulty pointing
Poor drip grooves under window slabs
Cracked seals around doors and windows
---
Problems linked with penetrating damp
Penetrating damp usually occurs in older buildings. But it can affect all properties at any age and any level with absorbent walls such as concrete bricks and stone walls. It can affect the roofs, ceilings and walls.
If not treated on time, penetrating damp can lead to more serious problems like
Dry rot
Wet rot
Black mould growth because of escalated dampness and humidity level
Rising heat loss
Frost damage to masonry
Awful-looking water damages

Penetrating damp on interior walls
Penetrating damp outside the property
Penetrating damp ceiling
Penetrating damp around windows

Stale mouldy smells
Damp wall insulation
---
Water penetration problems are common among properties where cavity wall insulation is poorly installed, or used on walls that are not apt for cavity wall insulation. Cavity wall insulation helps reduce heat loss through a cavity wall, but, the increasing difference between inside and outside surface temperatures leads to the formation of dew, damaging property by developing damp.
If you are bothered that your property may be affected by penetrating damp, no worries, we are here to help you. Get in touch with our penetrating damp expert team, CSRT Certified and allow them to assist you in determining the best course of action to prevent any upcoming damage. Just call us on 0148 436 7130 or click on the contact menu.
We are PCA (Property Care Association) and IOSH (Institution of Occupational Safety) Certified. Our Damp and Timber treatment work comes with a 20-year guarantee.
Penetration Damp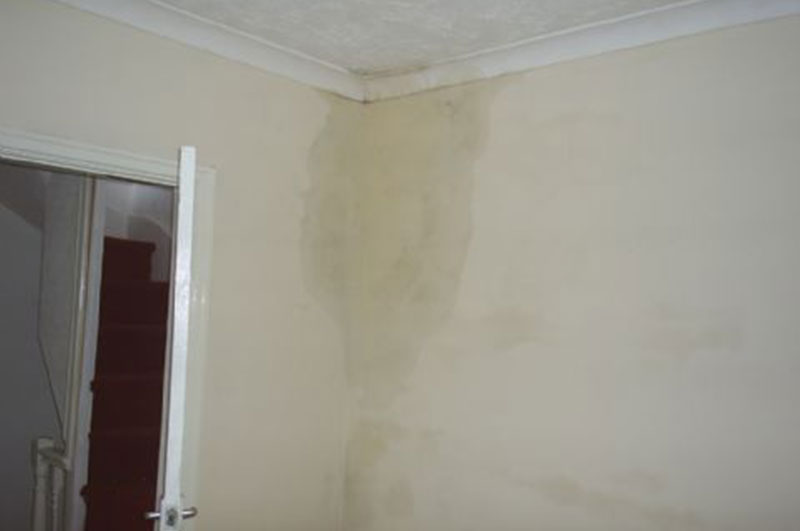 Penetration Damp
Penetration Damp
Penetration Damp
---
Penetrating damp signs
Damp patches on walls and ceilings, which grow in size and get darker in color when it rains.
Damp stains on external walls, leading to discoloration.
Wet, porous, powdery plaster
Constant damp smell
Signs of black mould – brown, muddy, dark and slimy looking appearance.
Dribbling water from walls and ceilings.
If you notice any of the above penetrating moist symptoms in your property, feel free to request a penetrating damp survey from Damp2Dry Solutions.
---
Penetration damp treatment
Ignoring damp problems for a long time can become a severe toothache for your property. If not treated on time, it can affect your health too.
To solve any problem, first of all, we need to understand what the problem is, diagnose the symptoms and signs.
Primarily, our penetrating damp specialists identify and then sort out the source of water ingress into the property. After that, they fix the damaged goods and property.
For minor penetrating damp problems, DIY penetrating damp solutions are applied.
For serious penetrating damp problems, where issues like black mould development, wet rot, dry rot, crumbled plasters, and increased heat loss occur, our ultimate professional solutions can rectify all of them.
Our ultimate penetrating damp treatments
Damp2Dry solutions provide all-inclusive penetrating damp treatments, including,
Property inspection to identify damp issues
Detecting and fixing the source of water ingress
Black mould cleaning
Treatment for damaged walls and ceilings
Treatment of damaged timbers
Removal and replacement of affected plaster
We Provide Bespoke Penetrating Damp Treatment across the entire Yorkshire.
West Yorkshire- Batley, Bradford, Brighouse, Castleford, Cleckheaton, Dewsbury, Halifax, Hebden Bridge, Holmfirth, Huddersfield, Ilkley, Keighley, Leeds, Morley, Normanton, Ossett, Otley, Pontefract, Pudsey, Todmorden, Wakefield, Wetherby, Yeadon
East Yorkshire- Bridlington, Beverley, Driffield, Goole, Hedon, Hessle, Hornsea, Howden, Kingston upon Hull, Market Weighton, Pocklington, Withernsea
South Yorkshire- Sheffield, Rotherham, Barnsley, Bawtry, Dinnington, Doncaster, Hatfield, Mexborough, Penistone, Wombwell
---
We are here to help you stop penetrating damp problems
Contact a leading penetration damp company in Yorkshire, Damp2Dry Solutions to help you protect your property from penetration damp. For any help and advice regarding damp problems and our services, feel free to get in touch with our professional penetration damp specialists by calling 0148 436 7130 or request a survey.