Wet Rot Problems in Yorkshire?
We are here to assist you!
Wet rot is a collective word used to refer a variety of fungal species like Coniophora puteana (also known as cellar fungus) and Choanephora cucurbitarum. The cellar fungus is the most commonly found species. Some wet rot species feed off the timber, they breakdown the cell walls of wood, resulting in loss of wood strength. They can grow anywhere in the property, where they get a suitable environment - the combination of water ingress and poor ventilation.
Wet rot is a common form of timber decay. It is not as aggressive as dry rot but can still cause significant damage to the structural integrity of your property, if not treated on time.
The experienced and qualified wet rot treatment expert at Damp2Dry Solutions, who are CSRT Certified, has been treating wet rot in properties for over 25 years all across the Yorkshire.
Due to Covid19, we follow all Government guidelines and make sure we still provide wet rot treatment in homes and commercial premises. We take all precautions with regards to social distancing and the use of shielding equipment.
If you are concerned that your property might be affected by wet rot, get in touch with our wet rot treatment expert team, and allow them to survey your property and assist you in determining the best course of action to prevent timber problems while remaining safe. Just call us on 0148 436 7130 or click on the contact menu or request a survey.
We are DPA (Damp proofing Association) and IOSH (Institution of Occupational Safety) Certified. Our Damp and Timber treatment work comes with a 20-years guarantee backed with extra peace of mind.
---
Causes of Wet Rot
Wet rot begins taking hold on timbers when the moisture content is between 20%-60%. The causes of wet rot are –
Rainwater penetration through malfunctioning goods of the property like defective air bricks. Damaged roof tiles, leaking gutters and downpipes.
Plumbing defects
Rising damp and condensation problems can be the other source of moisture in a property.
When the timber is exposed to moisture for a long time, it is most likely that wet rot spores will germinate on timber. Regular inspection of the property for any source of water ingress will prevent wet rot infestation.
---
Difference Between Wet Rot and Dry Rot
Although the cause of both timbers destroying fungi – 'wet rot' and 'dry rot' is increased moisture and poor ventilation, they look and develop somewhat differently from each other.
Wet rot spores require a higher level of moisture to germinate, while dry rot spores can sprout on timber containing even 20% of moisture content. Wet rot fungi do not spread as aggressively as dry rot, but if left untreated, it can also cause severe damage to the structure of a property.
If you notice signs of wet rot in your property, it is recommended to get your property surveyed through a qualified and experienced wet rot specialists. Contact Damp2Dry Solutions experts, who have over 25+ years of experience in treating wet rot problems.
---
Wet Rot Signs
The challenge for wet rot treatment experts when looking for signs of wet rot is that it often develops in hidden areas of the property such as floorboards, behind plasterboards, moist basements, and under leaking materials, because of inadvertent water penetration.
In its early stage, the wet rot fungus develops a thread-like structure similar to a spider web. Depending on the type of species, the colour of the wet rot fungus strands varies from brown to white. Later, these thread-like structures, also called hyphae bear off-white mushroom-like bodies, a series of the fruiting body of fungi, which produce new spores in the air for further growth.
Wet rot makes the wood soft and spongy by damaging the wood components. It can either darken or lighten the colour of wood depending on the type of wet rot species invading and also depends on environmental factors.
Wet rot can create localized decay because of a comparatively high level of moisture in particular areas of the property such as skirting boards, window sills and floorboards. Due to wet rot, paint and wallpaper on wood start peeling.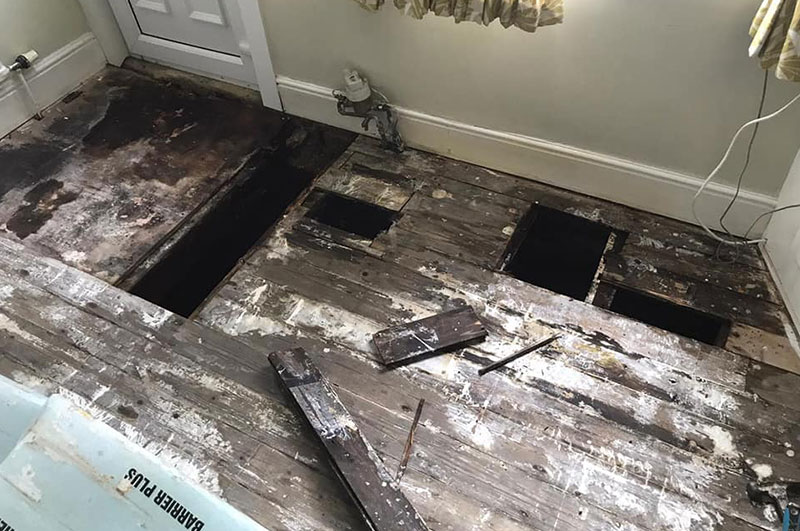 Wet Rot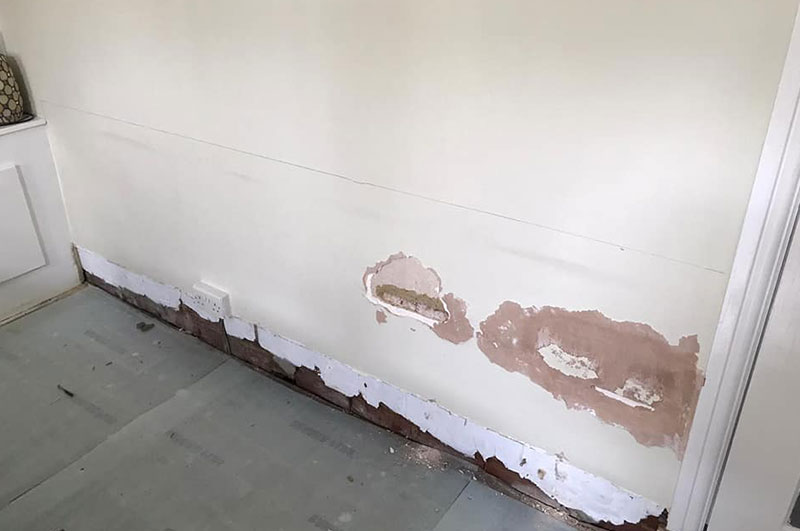 Wet Rot
Wet Rot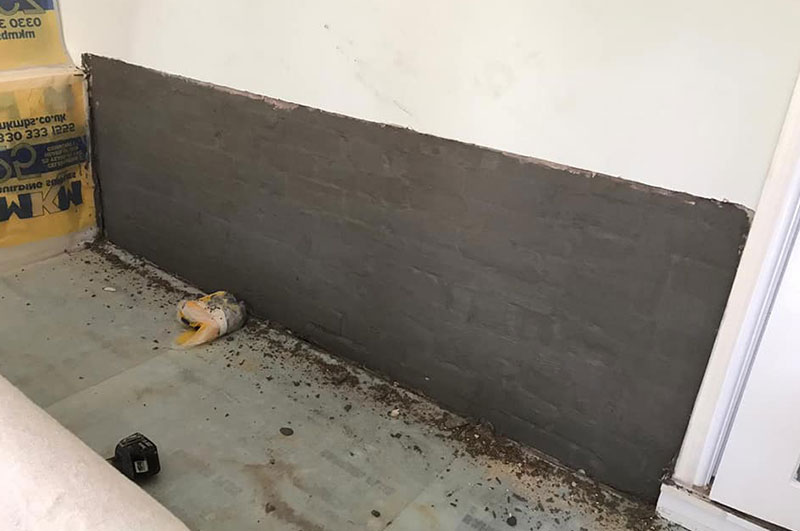 Wet Rot
---
Our Ultimate Wet Rot Treatment
It is vital to first identify and eliminate the source of moisture in the property, as the core cause of wet rot is water ingress. If the water ingress source not fixed properly, wet rot will continue to infest timber.
Secondly, our wet rot treatment specialists work on repairing damaged timber and do their best to maintain original structural and decorative timber wherever possible. Wet rot timber treatment depends on the extent of damage wet rot cause to timbers, if required, our experts replace damaged timbers.
Third, any wet rot infected timber retained, which has not been replaced with a new one, is treated with the latest fungicidal chemicals that have shown excellent results for eradicating wet rot from wood.
---
We Provide Bespoke Services accross entire Yorkshire
West Yorkshire- Batley, Bradford, Brighouse, Castleford, Cleckheaton, Dewsbury, Halifax, Hebden Bridge, Holmfirth, Huddersfield, Ilkley, Keighley, Leeds, Morley, Normanton, Ossett, Otley, Pontefract, Pudsey, Todmorden, Wakefield, Wetherby, Yeadon
East Yorkshire- Bridlington, Beverley, Driffield, Goole, Hedon, Hessle, Hornsea, Howden, Kingston upon Hull, Market Weighton, Pocklington, Withernsea
South Yorkshire- Sheffield, Rotherham, Barnsley, Bawtry, Dinnington, Doncaster, Hatfield, Mexborough, Penistone, Wombwell
---
We Are Here to Help You Stop Wet Rot Problems
Contact a leading wet rot treatment company in Yorkshire, Damp2Dry Solutions to help you protect your property from wet rot problems. For any help and advice regarding timber treatment and our services, feel free to get in touch with our professional wet rot treatment experts by calling on 0148 436 7130 or request a survey.