Rising Damp Problems in Yorkshire?
We are here to help!
Rising damp is a popular type of damp that affects the ground floor walls of buildings. This occurs when moisture from the ground travels upwards through tiny pores of the bricks by capillary action and results in visible "tide-blotches" around 1m above skirting boards.
Groundwater, contaminated with salt also travels up through the bricks and results in the formation of white marks, another common sign of rising damp. The capillary action stops when gravity and evaporation hinders its upward pull.
If ignored for too long, rising damp can create an irksome environment in the home or office. The porous materials of walls like plaster, timber and wallpaper rot or deteriorate. It can even result in wet rot or dry rot.
Due to Covid19, we follow all Government guidelines and make sure we still provide rising damp treatment in homes and commercial premises. We take all precautions with regards to social distancing and the use of shielding equipment.
Get in touch with our rising damp expert team, CSRT Certified and allow them to assist you in determining the best course of action to prevent damp problems while keeping safe. Just call us on 0148 436 7130 or click on the contact menu and request a survey.
We are IOSH (Institution of Occupational Safety) Certified. Our Damp and Timber treatment work comes with a 20-year guarantee.
---
Causes of Rising Damp
As discussed above, rising damp is the upward movement of groundwater through walls. This soaking tendency of porous materials in walls is the main cause you are more likely to see rising damp problems after heavy rainfall. And this is also the reason it affects only the ground floor.
To prevent rising damp problems from the very start, we recommend installing a rising damp barrier (or damp proof course) in the spaces between the low-level bricks while constructing a building. However, even after taking initial measures to prevent rising damp in your property, you notice signs of rising damp after some period. It happens because, after a while, these original damp proof courses begin to break down.
"Bridging of damp-proof course" is another cause of rising damp. It occurs when ground level outside a solid wall rises above the installed damp-proof course. Another cause of bridging damp-proof course is the stretching of external wall renders and internal plastering over the damp-proof course line and making contact with the ground.
---
Rising Damp Signs
Pinpointing signs of rising damp at an early stage may help you prevent further severe consequences of rising damp.
If you notice any or all of the rising damp symptoms in your property, feel free to request a rising damp survey or you can call our expert team on 0148 436 7130 to find the best solution to rectify this issue.
Tide-blotches on internal walls- Tide blotches or damp staining at the lower part of the wall, approx. 1m above skirting boards are the most common signs of rising damp. It feels moist to touch.
Fluffy white deposits on internal walls- Tide-blotches often contain ground salt that creates fluffy white deposits as the water evaporates from the wall. Together with ground moisture, ground salt is also soaked up by the porous brickworks leaving walls damp to touch. Because of the moisture absorbing property of salt, a permanent damp smell exists within the walls.
Deteriorating Skirting boards- Skirting boards that are rotting, crumbling, cracking and peeling paintwork, are the signs of prolonged existence of a rising damp problem. If timbers are exposed around these areas, it could lead to serious problems like wet rot or dry rot if left untreated.
Damp patches on walls and wallpaper- Due to increased moisture, damp patches develop on walls and wallpaper, peeling away wall paint specifically around skirting boards or up to 1m from the skirting board. Damp stains can be a sign of condensation issues, but if you can notice a paper crackling sound when you touch the affected areas, then it is a clear sign of rising damp. This crackling sound is there because of salts behind the wallpaper drying.
Black mould on walls- The appearance of black mold along the skirting board areas or above 1m of a skirting board could be a sign of rising damp.
Rising damp on external walls- Similar to internal walls, rising damp symptoms also appear on external walls of your property, similarly you may notice "tide-blotches" and fluffy white deposits of salts. Because of outside vegetation, you may also notice green and brown staining on external walls
---
Rising Damp Treatment
Setting up a remedial damp-proof course (DPC) through a damp-proof injection method is one of the most common ways to treat rising damp. In this method, holes are created via drilling around the affected areas and then remedial damp-proof course is injected into those holes. When DPC is absorbed by the bricks and dries, it creates a water-resistant barrier. Damp proof course treatment is a highly efficient and economical way to treat rising damp.
The cost of rising damp treatment depends on the severity of the problem. Before surveying the property to diagnose the severity of rising damp, it is difficult for any reputable firm to provide an estimated price.
Therefore, if you think your property is affected by rising damp, then feel free to contact our rising damp specialist to survey your property and help you find out whether your original DPC failed or you need to install a new DPC. This can save you from unnecessary expenses on costly damp treatments.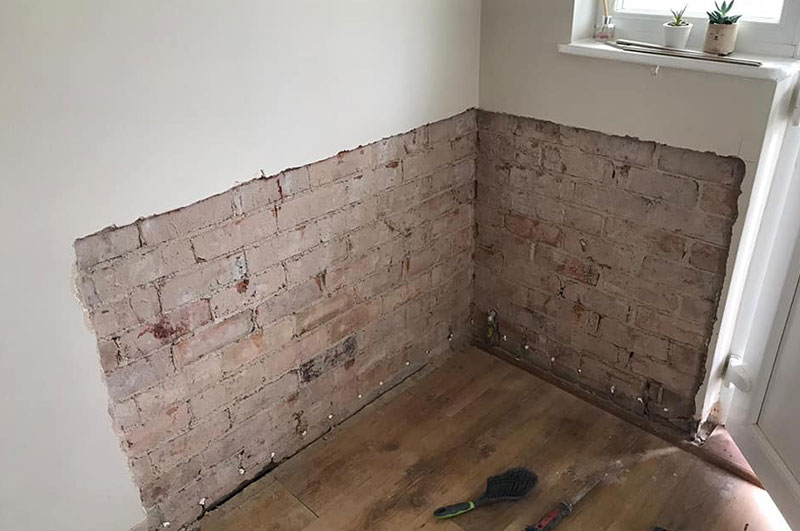 Rising Damp Treatment
Rising Damp Treatment
Rising Damp Treatment
Rising Damp Treatment
---
Our Ultimate Rising Damp Treatments
Damp2Dry solutions provide all-inclusive rising damp treatments, including,
Property inspection to identify rising damp signs
Removal of salt contaminated plaster from affected walls
Installing of Damp-proof course
Replastering of treated walls
---
We Provide Bespoke Services accross entire Yorkshire
West Yorkshire- Batley, Bradford, Brighouse, Castleford, Cleckheaton, Dewsbury, Halifax, Hebden Bridge, Holmfirth, Huddersfield, Ilkley, Keighley, Leeds, Morley, Normanton, Ossett, Otley, Pontefract, Pudsey, Todmorden, Wakefield, Wetherby, Yeadon
East Yorkshire- Bridlington, Beverley, Driffield, Goole, Hedon, Hessle, Hornsea, Howden, Kingston upon Hull, Market Weighton, Pocklington, Withernsea
South Yorkshire- Sheffield, Rotherham, Barnsley, Bawtry, Dinnington, Doncaster, Hatfield, Mexborough, Penistone, Wombwell
---
We are here to help you stop rising damp problems
Contact the best rising damp company in Yorkshire, Damp2Dry Solutions to help you protect your property from rising damp. For any help and advice regarding damp problems (penetrating damp and rising damp) and our services, feel free to get in touch with our professional damp wall treatment specialists by calling on 0148 436 7130 or request a survey.