Your house is more than simply a set of walls that shield you from the sun, rain, and dust. It is the accumulation of your life-long savings.
A home is a place where we feel safe, loved, and accepted. It is a place where we can relax and be ourselves. Home is a feeling rather than just a place to live.
When we think of home, we often think of positive emotions such as joy, happiness, and comfort. Home is where we make memories with our loved ones. It is where we celebrate holidays and special occasions. Home is where we go to recharge and de-stress.
Our neighbours are another factor that improves the livability of our houses. Coexisting with neighbours in a house can be very enjoyable. It can provide a sense of community, companionship, and support. In times of need, neighbours can frequently be the first to lend a hand and can also be a fun and friendly companion.
However, sharing a home with neighbours can present certain difficulties and is not always enjoyable. Neighbours can occasionally be bothersome, loud, or careless. It is common to witness these neighbours neglecting the upkeep of their houses, and this issue has become worse since the dampness on the internal wall between houses has arisen.
If you have a Question like Can Damp Spread from the Neighbour's House to my House?
Yes, damp can spread from your neighbour's house to yours through shared walls, leaks, or drainage issues. Maintaining property boundaries and communicating with neighbours can help mitigate these risks.
Damp Does Not Know Boundaries
According to the UK Census 2021, there are 30,423,000 people living in terraced and semi-detached homes in the UK. This represents 30.6% of the total population.
Furthermore, a list of individuals with various house structures is provided below, based on the report.
Detached houses: 37.3%
Semi-detached houses: 19.2%
Terraced houses: 11.4%
Flats: 25.4%
Other types of homes: 6.7%
This data indicates that over 55% of the population lives in houses with shareable walls, which let moisture into their homes. In addition, it also raises the case of dampness on the internal dividing wall.
The data on the number of damp cases caused by sharable walls in the UK each year comes from the Property Care Association's 2023 Damp Report. However, the Property Care Association is a respected trade body, and their report provides valuable insight into the scale of the problem. This report is based on a survey of over 1,000 property care professionals in the UK.
The report found that dampness on the internal wall between houses is a major problem in the UK, with around 1.5 million homes affected each year. The report also found that sharable walls are a significant cause of dampness, accounting for around 10% of all damp cases.
The conclusions of the report are based on the experiences of property care specialists, who also mentioned that there are several ways in which sharable walls can lead to dampness.
For example, if the wall is not adequately insulated, it may get damp and cold, which may cause condensation to form inside the wall. This condensation can then seep into the plaster and cause damp patches to appear.
Moreover, they indicated that shareable walls might be a source of dampness if there is a drainage issue on a neighbour's property. If water is not properly drained away from the foundation of the property, it can seep into the ground and rise up through the walls, causing dampness.
They said on continuity that dampness on the internal dividing wall can rise if it is not properly maintained. Water may be able to seep into the wall due to damaged brick pointing.
Finally, they recommended that if you are experiencing damp issues with your property, you should determine the root of the issue and take action to address it. If a sharable wall is causing the dampness, you may need to contact your neighbour to discuss the problem and agree on a solution.
However, you can evacuate yourself from the dampness on the internal wall between houses issue using the following suggestions.
How to Solve Dampness Issue from the Neighbour's Property
If you are also struggling with the damp on the internal dividing wall issues from your neighbour's property, then you can opt for the following reasons.
1. Engage Your Neighbour in a Cordial Conversation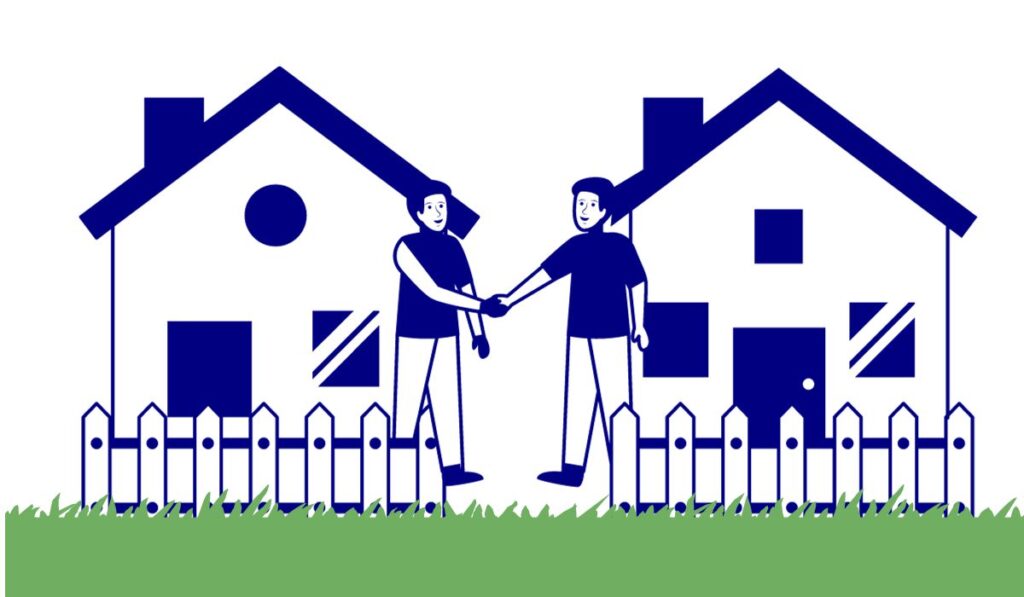 Sometimes the problem is a mole, but we perceive it as a hill. There are some issues that can be easily resolved with healthy communication. But the thing is that we need to take the initiative for fruitful communication.
You can elucidate your concern regarding the increasing dampness on the interior wall between houses. Furthermore, you ought to go into more detail about how rising dampness can cause several health problems for your family members.
To gain more clarity, you can ask them to come to their house so you can see firsthand the suffering you and your family endure as a result of rising dampness from their residence. After showing your neighbours every scrap of evidence, you can ask them to produce a successful outcome.
There are two possibilities here one, they can be satisfied with your mutual solution, and the other, they can disagree with you and have words with you. In this case, you can approach your local council.
2. Take Legal Actions
If, after multiple rounds of discussion, you are still unable to reach a mutual solution, you can go to your local court and file a case against your neighbour.
Sometimes the rising damp issue is caused by a neighbour, and other times it is caused by a tenant who has mishandled the property. Which could be the root cause of the dampness on the internal dividing wall.
If you are a tenant and your landlord is the one causing the dampness, you might be able to sue them in court if they do not do anything to resolve the problem. You should only use the court system as a last resort because it can be expensive and time-consuming.
3. Arrange a Damp-Survey at Affordable Prices
If the dampness is coming from a shared wall or another structure, your problem can be resolved by a qualified damp specialist like Damp 2 Dry Solutions (Yorkshire) Ltd.
Their professionals can examine the common area and determine the source of the moisture. They can also offer a wonderful solution for your rising damps.
Their expertise spans over 25 years, encompassing expertise in timber treatment, rising damp, penetrating damp, and basement waterproofing. Additionally, Damp2Dry Solutions provides the best damp solutions in all of South and West Yorkshire. They are the most well-known companies in the damp proofing and property preservation sectors.